Lavender
September 21, 2017
Laced upon the table in a tedious yet simple formation, Transporting an inattentive passerby to a pleasant oblivion,
It lingers close to the skin with a subtle nudge --
Latching onto the chance of joining the celebration.
Nestled into the gentle folds of fresh, braided hair --
Adorning the loose, draping ringlets, bouncing with the release of a brush --
It finishes the embellishments of the betrothed woman,
Soothing the bride's anticipating cardiac rhythm.
Communicating waves of peace to the nervous groom's heart --
A crutch, waiting for the solace found in his equal's embrace --
It Infuses the aisle with an aromatic breath of nature.
The perennial calms.
Safely leading her to her counterpart,
One steadying breath in exchange for the release of abounding nerves,
Everything dissipates- the world ceasing to exist beyond two pairs of eyes,
The promise of covenant.
Forgotten, swept, tossed, and thrown away,
Left alone as it brings the guests together --
The Lavender gives
Without the promise to receive.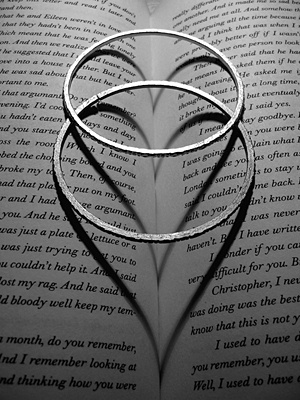 © Julia K., Old Tappan, NJ