Totality
August 22, 2017
Fifteen minutes before totality
The sun pierced our eyes,
Pervaded our delicate skin.
Our stares were deflected.
Our hearts erupted with anticipation
In the form of euphoric laughter. 
Rows of people stood, all staring at the forbidden light.
They held their glasses closely, waiting for the climactic pause,
The grand yet subdued finale.
Ten minutes before totality
We slipped over the concrete,
Tripping past one another,
Silently ignoring apologies.
Our inky shades covered us, protected us,
Gave us a new sight.
Our conversation balanced on the edge of talking to the sun, to the moon,
and talking to our peers.
Five minutes before totality
Our solar spectacle grew,
It's last effort to shine on us: failing.
The sky fell into a hazy sleep,
Like a dimming switch being moved down several spaces. 
The valiant rose of our System gave a lasting breath of warm air,
And then vanished behind the charred moon.
One minute before totality
We noticed the hush of every animal,
The creaking of crickets.
We felt the sky bombard us with majesty,
And like angry ghosts,
We shook the ground, and howled.
During totality
A silver peak mounted the dark and selcouth orb.
As it faded, nearly gasping to be seen,
A single eye floated above us,
Dialated, wary.
Our canvas had been painted,
Our lives now decorated with a hint of the apocalypse.
After totality
We longed for it to be back,
Calling out that it was the shortest minute and thirty seconds
We had ever experienced.
Somehow the passing of the moon across the sun
Was no longer as interesting,
Not quite so novel.
After totality
We forgot to write, to paint, to explain.
After totality
We proved our ignorance of what the blind might have wanted to see
And after totality
The sun rejected us again.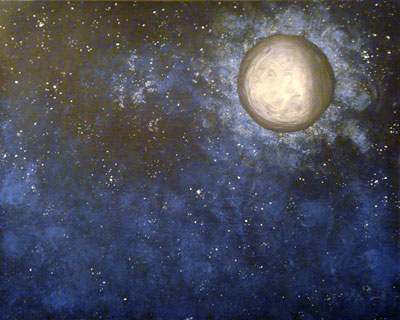 © Allison H., Vancouver, WA