Why I Write
August 3, 2017
Asking me why I write is like asking the sky why it's blue.

Because writing is like opening a musty, old drawer
In a creaky, old attic
In a dark and dangerous house
Where the walls seem to close in on you
And writing is like finding a stone in this house in the attic in a drawer;
A stone that's been anywhere and everywhere and all places in between;
And as you take it, the house sinks a little bit when you look at it.
And somehow, you feel more powerful with the stone perfectly fitting in your hand.

Writing is like sitting in a dark room with a broken candle and a jar of tears
And suddenly the candle lights up
And you find gold and silver and platinum and sapphire and oh, the prettiest geodes you've ever seen
All in one room
And you look back at the candle and it's burning away
And you close your eyes and the walls seem to open up around you.

Writing is like traveling to another galaxy and
Getting to know how to live again,
And when you come back to Earth,
Everything seems so dull and lifeless
And you just long to visit your galaxies and
Space doesn't seem too far away when you look at it right.
So I sit with my paper surrounding me, and if anyone asks why I write,
If anyone ever asks,
I'll
Just
Tell
Them
This.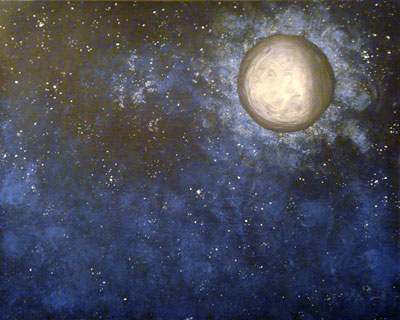 © Allison H., Vancouver, WA