Portrait of an A**h***
July 27, 2017
A guy just got on the second car of the green line to Government Center
so he didn't have to pay for a ticket.
He wears glasses that he gets busy cleaning as soon as he gets on the train.
When he puts them on again, his eyes dart toward each of the other passengers.
He rubs his palms against his khaki pants.
Nobody asks him to leave,
so he relaxes there, with his messenger bag pressed against the wall,
grinning to himself like he's just committed the heist of the century.
We all saw him slip in right between the old man and the teenage boy.
The driver has been saying,
"Swipe your card or pay your fare,
swipe your card or pay your fare,
swipe your card or pay your fare,
swipe your card or pay your fare,"
for four (going on five minutes) now.
The other passengers glare at him with bated breath, but he does not stir.
Headphones in, he starts to bob his head when the train starts moving.
The android phone in his right hand starts to vibrate, and
the contact photo of a smiling woman with glasses and thin wisps of graying hair appears on the screen.
"Mom".
He presses "decline" without a thought.
The man leans back against the train window,
with shoulders rattling rhythmically as he stares down a woman in a tight pantsuit.
His eyes rake the front of her chest
right where her freckled, tan cleavage pops out of her button down shirt.
The man doesn't look away until he hears,
"Next stop, Longwood,"
The balding head jerks back to the window
and he struts into the station before the doors snap shut.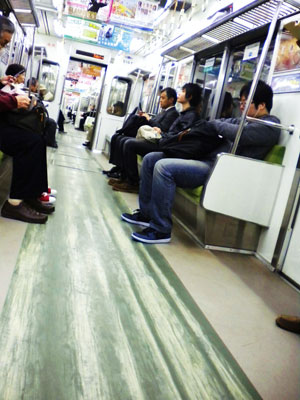 © Abigail W., Kamuela, HI