Dance in the Rain
July 21, 2017
I can taste the rain falling over my skin,
Laughing over scars that were once glaring wounds,
Tickling my neck,
now sore from screaming declarations no one wanted to hear,
and bruised from the bitter taste of rejection.
I can feel the storm humming in my veins with each sonata of lighting and every sonnet of thunder,
It growls for the promise that was never made,
Punctuated by rain drops that dissolve on my tongue as wishes and dreams and aspirations that were uttered and conceived,
but never fortunate to meet the morning.
I am dancing in the puddles,
In the neighborhood of fallen, lost hopes,
Soaking myself in messages from the sky—now read.
I am soaked by the epiphanies of release and the sweet-bittersweet-sour smell of precipitation-perspiration.
I am stifled by the umbrellas they hold out,
offering shelter as if they believe it is what I need most,
as if they can fix the hurricanes and ravages with a seemingly kind gesture,
A motion that stops my tongue from tasting sorrow,
my ears from hearing the frustrated roars,
my eyes from seeing the constant, everlasting plummet.
I want to taste the rain,
feel the storm,
hear the calamity,
to fear the bickering clouds and unharnessed power behind dark skies.
I want to bask in the beauty of destruction,
to recognize the glories with grief,
the tortures with triumph,
the apologies with acceptance.
It is too much to be burned by the sunshine,
dried out and enervated by beating,
demanding,
imposing rays,
To be blinded by exhaustive radiance and proclamations of righteousness,
squinting and overheated and blistered with conquests headed for open waters with closed minds.
Let me wear my veils of anguish and drown in sobs that are mine and not mine,
Let the rain drops break in veins and jagged fingers down my cheeks so I can't tell them from my tears or my sweat.
Let me dance in the rain.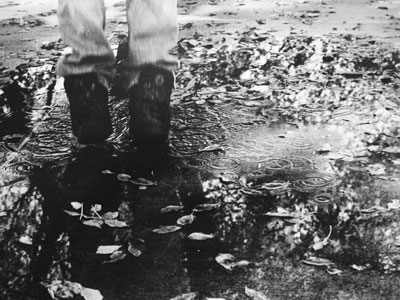 © Laura M., Eagan, MN