I will never be an artist
July 20, 2017
I will never be an artist.
But I was born on a blank white canvas.
Draw in perfect proportions.
In colors of the waves and the sky,
Filling my canvas as every day becomes night.
When I was one month old I drew a dot on my canvas and then another when my older brother held me for the first time.
When I was three months old My mom told me "I could draw constellations with the stars in my eyes."
When I was 1 I created footprints in purple and green as I learned to rise every time I fell.
When I was 2 I drew one more dot out of spite of being the middle child.
When I was 5 I start kindergarten where I drew my family for the first time with lanky arms and the big smiles.
When I was 7 I felt the wind at my back painting a rainbow behind me as I left my training wheels behind.
When I was 10 I gave my dog an examine with my very own stethoscope where I learned what I wanted to write on my canvas for the rest of my life.
When I was 11 I drew hearts around my crushes name when I was learning how to love.
When I was 13 I dripped blue on my canvas as I cried in my mother's arms because of hurtful words.
When I was 15 I piled books and papers on top of my canvas with writing in blue and red.
When I was 16 I danced with my father in light pink as I was no longer a little girl.
When I was 17 I fell in love. Coating my canvas in red and with happiness in my heart.
My canvas begins to stretch and grow as I paint in names and memories of all that has left a mark on me.
I will never be an artist.
But I have created art in every way.
Growing like flower seeds, with the wind at my back. Leaving stick figures and training wheels behind painting new shapes and faces in my future.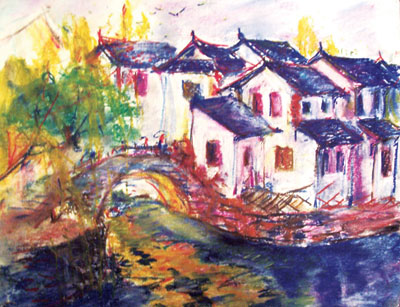 © Xiao H., Naperville, IL