This Poem Won't End in Suicide
July 27, 2017
I
She pretends to love the winter
But it smothers her
With its flawless
Poisonous
Snow.
She collects frozen leaves from the gutter
And hopelessly tries
To sew them back
To their branches.
II
A book sits on her nightstand.
Inside its purple cover
Is poetry
Translated from Italian.
The lines are rough
The rhythms have been lost
In their transition
From one language
To another.
III
There is no reason for her to cry
Yet there is every reason for her to cry.
She fights the tears
Then lets them fall
Then regrets it all again.
On the countertop
Her mother's roses
Sit in a crystal vase.
They are slowly
Withering away.
IV
On the dining room table
The centerpiece
Boasts its fake flowers.
They still look
As beautiful
As the day they were bought.
She hates them.
V
Everything seems so gray-
Their eyes
Their gloves
Their plastic shopping bags
And the water trickling
Into the sewer.
She can no longer
Pretend
To love
The winter.
VI
Next to the Italian poetry book
There is a bottle
Of sleeping pills.
VII
The city lights
Glow so brightly
There must be
Some grand celebration.
She walks
Beneath a web
Of one million stars.
A stranger wanders by
He is looking up.
On the city street
He collides
With her.
VIII
He apologizes
Says he was distracted
By the moon.
She doesn't smile
Because he looks like
A dreamer.
He says
If the moon ever fell from the sky
And became a pearl in the sand
I would hold it
And comfort it
And tell it it was brave
For sitting alone in the dark
For so long.
He walks away.
IX
She imagines
Becoming a pearl
In the sand.
X
The hand that cradles her
Is warm
Forgiving
And unimaginably
Tranquil.
For one night
There will be
No moon
Above the city.
XI
Next to the bottle of sleeping pills
There is a pen.
Its ink
Is midnight blue.
XII
The winter seems less cold.
She buys a bar of soap
That smells like apples
And scrubs away
The remnants
Of snow.
She breaks off a piece
Of the apple soap
And keeps it
In her pocket.
XIII
Kneeling by the edge of the street
At the sewer drain
She watches gray water trickle in.
The pills in her hand
Are blue.
One by one
She releases them
Like fish
To the open sea.
They disappear
Through the metal grate.
XIV
At the back of the Italian poetry book
There are three blank pages.
She chooses the middle one.
In the ink
Of the blue pen
She writes:
XV
This poem
Won't end
In suicide.
XVI
And she writes a poem.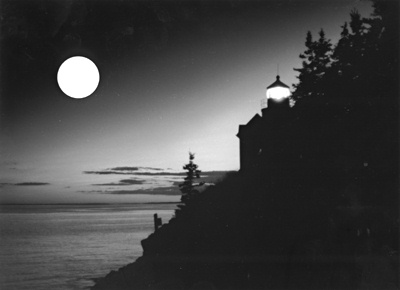 © Steve S., Marblehead, MA