The Monster
July 15, 2017
Unwillingly, I look
into its eyes. The
monster, it controls
me. It hurts me in a
way not understandable
by anyone who has
not experienced it.
Its torturous gaze
shatters my soul,
the shards ripping me
apart from the
inside out. I
scream, a sound
that is unheard through
the beasts mighty
roar.
Unimaginable, it may
seem to me, and I wanted
desperately to
forget, to think
freely. But I
cannot, for the
monster is
infiltrating my every
thought, every action.
Control; that's what
it wants. It wants to
take my soul, my
heart, my body, anything
that makes me
unique, and tear
it to shreds. It wipes
my tears with an
iron fist and
laughs when I cringe
in pain.
I can't do this
anymore. I'm
done, I say. I
try and wake from
this nightmare, but
this was no
nightmare; this was
reality.
My reality.
I wanted so
desperately to
rid my life of this
pain, but I could
not, so I rid the
monster of its
prey.
In one last
effort to catch
me before I
took off, the bully's
jaws snapped at my
heels but decided
to let this one
die at the
hands of sorrow.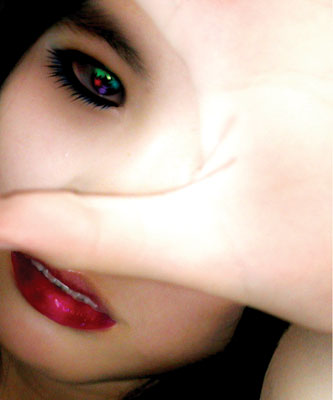 © Victoria W., Arcadia, CA