My regal Grandmother!
July 12, 2017
Amma Amma, where are you?
I hear you, I see you, but where are you?
My mother says, "She's gone"
Did she disappear? I mourn.
I imagine her so beautiful, so young
I want to hold her, kiss her
Everything is such a blur
She has disappeared.
Bright red lipstick, throaty laugh
She's the life of the party
Oh! She was such a smarty
Amma you are my other half.
I think about our good times
I realize I lived in a bubble
One that got me in trouble
I must change my thinking
Unknown? I know how to face that now.
I know Amma you weren't going to live forever
To you I bow with love
I forgive you for leaving me
Spread your wings and fly now my Dove.

Amma Amma, I do see you now!
There you are, up in the sky so beautiful and regal oh how
With you gone, I can see clearly
The cloak has been lifted
Sands have shifted.
I cannot imagine a world without you
You'd never spoken of Death but still he came and took you
My world turned upside down
I do not think like I used to
But I will always stick to you

This is a new reality for me
I have realized that people come and go
I'm grateful to have had you
Though I am still quite blue
See you my Amma!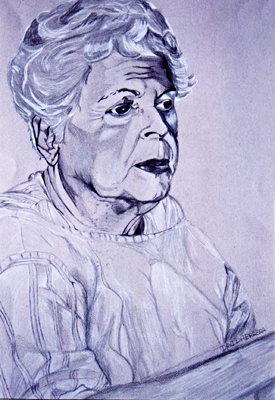 © David H., Kannapolis, NC