Art Expedition
July 4, 2017
Let's go on an art expedition,
Wander through the Broad and the Disney Concert Hall gift shop,
Where you can find scarves billowing with flying colors and miniature instrument magnets,
And don't forget about the rooftop gardens.
Our next stop would be Grand Central Market, where mouth-watering ceviche is on display,
Then onwards to Verve Coffee Roasters, who turn caffeine into an interactive experience for your taste buds.
We are so immersed in art that we become oblivious to the way it envelops us; it is not confined to museums and collections, locked away in galleries like some believe.
When people say "I'm not into art", the birthmarks across the expanse of their skin shudder at the thought of being so overlooked.
Bodies are the ever-changing sculptures, and souls are the canvases to explore.
If you asked what my favorite work of art is
I would have to take a minute deciding between Van Gogh's Starry Night Over the Rhone, Jandy Nelson's I'll Give You the Sun, the way Salt & Straw embeds chocolate dipped, caramel coated pecans into their ice cream
Or the existence of tapioca balls to perfectly complement our milk tea and peach passion fruit mixes.
But even a thorough evaluation would always lead me to the same answer
Which is this.
I fell in love with a masterpiece a few months back.
His eyes are more effulgent than the reflections from the stars
His words make every morning I wake up bleary eyed and yawning worth the sleep I lost
The smoothest coffee can't beat his lips
And he always has me coming back for more.
So the next time I go on an art expedition
I'll get in my car, drive down the highway
And park on a little street just off the way
I heard they have a great exhibition nearby;
The reviews are coming in positive:
"Eccentric" and
"Revolutionary".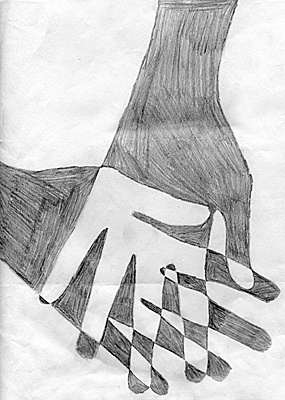 © Warlito B., Tamuning, GU