Affidavits of a Rape Victim
June 28, 2017
he will always live within me
like a twin absorbed in the womb
or the zika virus, rousing when
it comes time to bear children.
he will exist
in my memories,
in my voice when i say no,
in images of tall men with greedy fingers
locked in my hypervigilant gaze.
a former courter in a courtroom.
expression cold and eyes dead
as bullet casings,
immorality solidified
by medusa's snakes.
his facade masks all
traces of culpability–
the lines which he made
and crossed with his
unwelcome touch.
he possesses
the remorselessness of
either sinner or saint,
his face an interrogation lamp
burning with suspicion.
with flushed cheeks,
i check
and recheck
the locks
on the door to my sanity,
smelling the sheets
for signs of a rat,
listening to the tapes
for sounds of consent,
recounting my steps
until I'm back where i started,
my virginity still intact.
i convict him
time
and time again.
he is guilty,
i mumble to myself.
he is guilty.
he is guilty.
he is guilty.
he is guilty.
yet
my compulsion
to confirm the crimes
proves as
insatiable as
the man who
committed them.
my fingers feverishly
transcribe my truths in
tangible form
so that they may become
concrete.
affidavits which
i compose for myself.
an affidavit.
an affidavit.
another affidavit.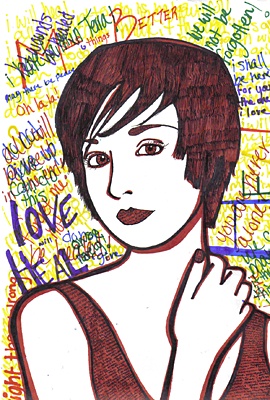 © Sara D., Aiken, SC