Hot Day in the Deserted Parking Lot
June 24, 2017
It's so hot
They said it would be cold
But it was not.
So the people sit and melt
This heat wave has been felt.
Two hundred degrees too much too high
Eggs on the street will bake and fry.
Oh yes, it's so hot
They said it would be cold
But it was not.
Yes, this heat wave has been felt
And we all just lie here and melt.
This heat's makin' me feel high
So I sit here and wonder why
Should I get up and get in gear
Instead of lying here
Wonderin' where's the LSD -
God, look I've hit a bee
Better let that thing be...
Oh Lord! it's just so hot
I've gotta wail and moan and rot.
There's a woman with a pelt
And a man who's got a belt
There's a guy with powder in his eye
He sings too loud and asks us why?
Why it's so damn hot
It's frying the whole lot.
Our cheeks are red and warm
And the bees breathe in a whole swarm...
I feel my face begin to blush, and I'm welcomed by a rush of bleedin' tomato juice on a ride.
I twist on my side:
Let me sleep, let me die,
Cos it's too damn hot
In this deserted parking lot.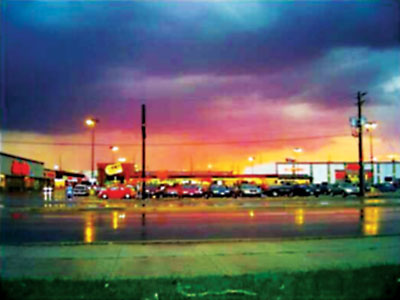 © Jasmine N., Lyons, IL