Glittering Moon Rocks And Dancing Stars
June 22, 2017
I once fell asleep with with my window open
I slept to the noise of the Earth,
And the sounds got
Inside my ears and
Awoke the creatures
In my head.
They howled until the
Roof opened up and the
Stars fell from the
Sky to land in my hair.
The moon broke into
Pieces, and the
shattered moon rocks
Were caught in my
Eyelashes, becoming a
Glittering shield for the
Sight emeralds in my skull.
The stars in my hair
Sang and danced,
And the glittering
Moon rocks glowed, lighting
Up my room in silver.

They stayed that way
For a while,
The glittering moon rocks and dancing stars.
They stayed until the
Sun rose into the sky,
And then the stars and
The moon floated away
With the wind.
I never felt them again,
But I slept with my window open anyway.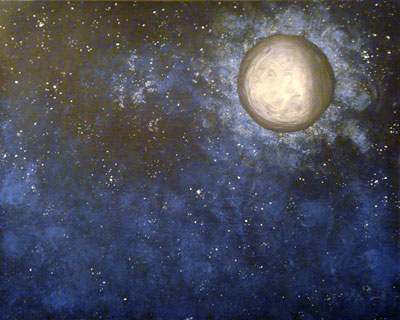 © Allison H., Vancouver, WA