We Are Eagles
June 16, 2017
We are Eagles,
strong brave and proud,
We've soared this high,
With no limits,
And yet we still roam higher,
Nothing holding us back now.

From the start we were set,
We had our goals in our minds,
Our dreams were secured in our hearts,
And we were ready to face on the world.

I remember the first day of 6th grade,
I was a short 6th grader
Yeah, you were short huh,
I came to school worried,
My fears were practically painted on my face
The school was so big,
What if I get lost?
What if that drops my grade?
Oh my gosh,
I can't fail!
I walked into first period and it was great,
The teacher was real nice and I felt like I could conquer the world,
That lasted for,
A week,
Maybe two,
That's when the learning really started,
Knowledge overflowed me,
To the point I thought I was drowning,
Struggling for air I searched for a way out,
Maybe if I study more,
No study harder,
No, ugh, gotta keep it together,
Then it came to an end,
Thank goodness,
And 7th grade came right around.
7th grade was great,
It went by fast,
From competing,
To winning class of the year,
To finally losing my mind,
To basically having the best year,

Then 8th grade came running at us at full speed,
Man we're old
8th grade was the biggy,
The last shot at glory,
The one last time of being a middle schooler,
It was scary,
That was before we knew that 8th grade,
Wasn't scary at all
Yes it was one wild ride,
Yes it was tough,
Yes I nearly fell off the train,
but it was worth it,
The time spent learning,
The time spent studying,
Was all worth it,
I discovered new things about myself,
Like courage and confidence,
I realized I could touch the stars,
And make memories that will last a lifetime,
I realized that through all the work,
The prize was worth it,
For we are Eagles,
And we forever will be Eagles,

Soaring through the sky,
Reaching for the stars,
and soon we'll be with the stars,
There be a constellation made,
In memory of our works,
We'll be the leaders of dreamers,
And the hope for the hopeless,
We'll guide lost ones back home,
And make a difference felt by the world,
For we are Eagles,
Golden Eagles,
With the intent of success in our minds,
And the hope of reaching there set in our hearts

For now,
We're still flying,
We're still exploring the clouds,
Searching for answers,
Looking for our dreams,
Reaching for victores,
We're being ourselves as we navigate the skies.

We know that someday we'll be done,
Our dreams will be reached,
Our stars will have formed constellation,
And our hearts can rest from all the running.
One day we'll look back,
On graduation,
Well promotion actually,
We'll look back on this day,
The last day of 8th grade,
The last day of being middle schooler,
The last day we ever spend in this school,
In this room,
Surrounded by theses teachers,
Who have guided us,
Nurtured us,
Who have helped us grow,
From the moment we walked into this room,
To the time we walk out,
They will have our backs,
They will keep us strong,
It is because of them we owe our success to,
They deserve a great big thank you!
Thank you teachers for all that you've done,
Thank you for pushing us beyond our limits,
For teaching us to look beyond what we think is possible,
Thank you for all the memories,
That we will keep,
For all the moments we have spent cherished,
Thank you for the knowledge you have passed down to us,
Thank you for making us the people we are today.
Farewell for now,
I bid you adieu,
May you teach with your hearts
And remember us when we are gone,
For high school awaits us,
We must move on through.
To high school and beyond,
We will keep you in our minds,
As we can never forget,
What you have done for us this year.

Knights we will soon be!
Headstrong and grounded,
We'll take down dragons,
With each word we pen,
We'll build castles,
And engrave our names into the earth,
We'll cut down mountains,
And overcome armies,
With the same goal as before,
Victory.

It makes no difference,
That we are Eagles,
That we are Knights,
In reality, we are both,
Eagles flying in the clouds,
Knights defending the world below,
We'll be guides for the next generation,
We'll still be standing,
We'll still be dreaming,
We'll still be Eagles and Knights,
Reaching for the stars,
Slaying dragons,
Leading an army of dreamers,
Seeking opportunities that appear for a moment,
But last a lifetime,
We are Eagles,
And,
We are Knights,
For eternity we rule.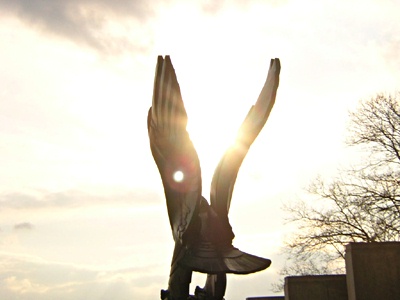 © Brittan S., Claremont, CA