lament
June 14, 2017
i.
I feel like a tiger, she says
and digs her nails into her skin
to show me.
I feel trapped.
sometimes I want to scream.
the dregs of my own shriekds
still hot in my throat.
our words crumble with emotion.
in a single frayed moment,
we are slaves in egypt
we are lying under the guillotine
we are starved and broken
bodies marked with golden stars.
watching her rip herself open
I want to grab her hands
find the words that will mend us.
too late, though. I'm
slamming my head against the wall
she's ripping herself apart
eyes open in the dark
we're chasing a prayer
that's already slipped away.
ii.
this pain is slick and somber
with greasy marrow
and a beating heart.
it melts on my hands
leaves a sheen that
doesn't disappear.
its tentacles always upon me.
try to stay afloat
it says. struggle to keep
your head up 
as you watch your friends
go under.
their screams
dissolve like smoke
in the night.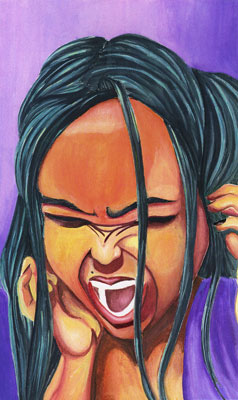 © Kriztille J., Briarwood, NY