Sometimes
June 19, 2017
Sometimes you know someone for a long time,
become friends with them,
create memories.
Sometimes you make each other laugh,
you enjoy each other's company,
spend time with them,
do nice things,
and go out of your way to be nice to them.
Sometimes you comfort each other.
You've got their back,
they've got yours.
Sometimes you get close to that person,
get extra friendly,
create more memories with them.
Sometimes you think about them all the time,
wishing that you could always be with them,
and always be closer.
Sometimes they don't.
Sometimes you know the person for a long time,
become recognizable,
yeah, they remember your name.
Sometimes you both smile,
they're nice enough,
you aren't that bad.
Sometimes you give the person something to be nice,
they appreciate it enough.
Sometimes you defend that person's case,
throw in your two cents.
Sometimes you think you should be closer friends.
Sometimes, they don't.
Sometimes you see a person around a lot,
you know their face,
they know yours.
Sometimes you remember their name,
you say hi,
Sometimes they'll say hi back,
sometimes they'll just glance your way in response.
Maybe smile,
maybe wave.
Sometimes you notice the person other places,
that stand out some,
you yell a greeting.
Sometimes they don't.
Sometimes you realize a person exists,
Sometimes, they don't.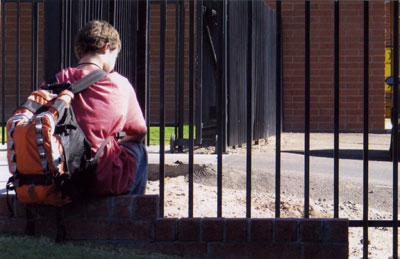 © Molly L., Phoenix, AZ