Gangess: A Sick Rose
June 13, 2017
"See what an atmosphere of holiness is here --
the pure air of the Ganga -- what an assemblage of Sadhus --
will you find anywhere a place like this!"
—Swami Vivekananda
Cleaving the heart of snow-crowned Himalayas, I was born; it is Gangotri, the place which you admire as my lying-in-room. Unknown to me, in an ancient past; having pierced the stone-house of meditative Himalayas, I started flowing; swiftly I moved towards the plain from the lofty mountain ranges. I arrived at mortality from the immortal heaven. Creating frisson in the merriness of sweetie Alakananda, me too was overwhelmed in surge of delight.

You have written myths of mine; a myriad of stories, infinity of novels are the milestones of your cardiac creations and cardiac relation of you and me. Vogiroth, the heir of King Sogor, satisfying the lords of paradise, came to Brahmlok, to Brahma. Long days later the sight of Lord Krishna gratified Brahma that he, leaving his seat, stood up and poured 'suradhuni dhara' on the feet of Lord Krishna from his divine kamandulu. I am that 'suradhuni dhara'; at the command of Krishna, Vogiroth has taken me with him to this lower-world playing his conch.

On my trip, there are so many pilgrimages: besides Haridwar, Prayag, and Varanasi, there are a thousand of holy lands. For my divine touch, many a pious ones are ardent – blessed are they to bathe in my flow. There built up so many monasteries on my shore; from era to era innumerous theologians, gallant personalities sought satisfaction in my lily and chaste attire. In India the Aryan culture was in vogue attracted by me; with my flow the Aryan culture mixed it's up.

In Hardwar, everyone worships me as visible goddess; every evening is followed by divine ceremony of waving of lights before me; many a devotee gather at my heart to quench their divine thrust with my adoration. But I don't fix myself there – I'm on my way to you, my dear offspring, to the call of wild.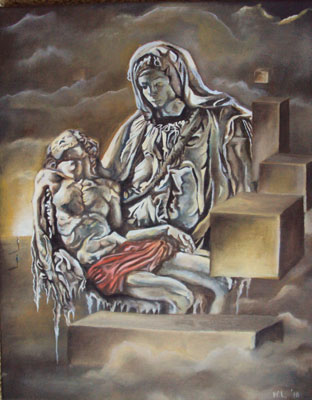 © Winston L., Dallas, TX