The Wish Granter
June 8, 2017
I was once told that a four-leaf clover
Was lucky if it wasn't looked over.
One needed to pick the clover
And then proceed to turn it over.
The special power of this plant
Was such that it could then grant
A wish that one decided to chant.
But then it wilted away, this tiny plant.
A young child might look around
Until a four-leaf clover was found.
And then the child would pick it from the ground
But once picked, the wish granter becomes browned.
The wish granter itself does not
Even get an afterthought.
Its wish is to not be pulled from its spot,
But this wish, humans have given no thought.
For humans, finding a clover is exciting
But for the clover, this is rather frightening.
It took on the role of wish granting
And now it has lead to a misunderstanding.
So while luck and four-leaf clovers are associated,
This myth must not be exaggerated.
For the clover's own wish is never liberated
Because the wish granter is annihilated.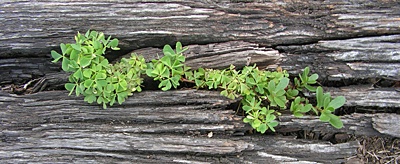 © Chris S., Monaca, PA