A Compliation of Sad Stories
June 7, 2017
i. Birthmarks are Nature's Tattoos
He has three letters 
   tattooed on his wrist that spelled 
   her name. And sometimes 
   it spelled a sad word
   when he didn't love her. 
ii. Whose Name Means Thirsty For Blood 
There was this poet I once knew who wrote one haiku for every      year he lived. He began the eve of his thirteenth birthday when the  moon was cut in half. He wrote about the other half - broken and  shattered yet floating freely in the lake. 
And he asked me: Would you rather be whole like everyone else, or     would you rather be broken but free?
iii. A Broken Haiku 
i love you
in all the ways
the golden sun
could love 
a daying rose
iv. Dedication 
This is for the darkest nights, 
     the uprooted oak,
     the restless dust. 
This is for the tangled police lines in the wind. 
v. Umbra 
Tell me about how things happen at once. About how this house is silent and cracked walls when across the street there's drunken laughter and a broken window. About how that's better than this. Tell me about how all things end. About how everything matters here when nothing really does. About how that's better than this. 
vi. 
There's nothing heroic about foreseeing the future. 150 years ago today, an old woman somewhere in Asia predicted that a train 6,014 nautiful miles from underneath her apple tree would fall into a ravine exactly an hour and twenty minutes after midnight. No one believed her. 
           They said it was the certainly of death that drove her mad.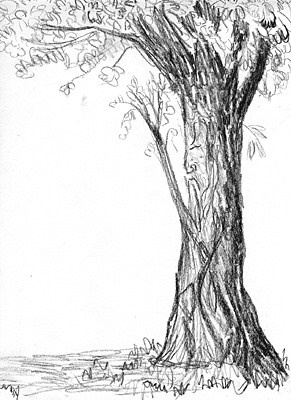 © Anna W., Athens, PA