This City of Heart
June 7, 2017
I lounge above my city on a delicate cloud, spirits whispering in the wind.
As my city drowns in the wave that smothers the soft glow of homes still lit with the fire that eats and plunders through the underground, I watch the stars that circle my haven reflecting in the dark liquid that forces itself down my family's throats, in the tears of my neighbors' wide eyes as the flames consume them. I wonder at the ink suspending my frail bones  as the water of the depths dance with the fire of the skies and thick black steam rises where they graze each other in their eternal seduction. The flesh of my friends reduced to ash and returned to the silt beneath the water, reminding me of the mortal life I once lead. Now bathed in gossamer threads that bind and twist my writhing body into a new creature - a being that can remember who I once was. And it stops. I stop burning with hatred and fear, the crashing waves calm to ripples within my skull and once I finally lay to rest my mind and soul, when the fire and water has receded into the deepest cavity of my chest, I open my eyes.
Behold, my city of rain and ruin and mud and smoke. As I push away the now stained cloud, tainted by the ink leaking from my fingertips, the fiery jewels and ebony silk follow as I descend to my stripped city. Drifting, a wraith shrouded in whispers and dark remorse, my feet brush the scoured cobble, washed away of blood and mud and spirit and sin, guiding me through the harrowed streets. Screams still linger in the stone, reaching to grasp the wispy shreds of night I leave behind, discarded shards of the iron above. I will guard this city of heart and remember those I had once sheltered, reduced to dust by the conflict roiling in my blood. This city of my heart.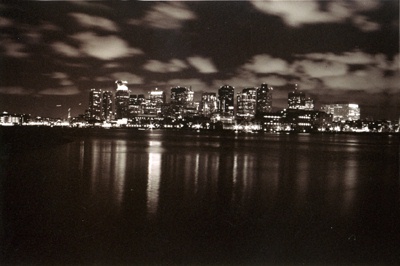 © Hoang P., Rochester, NY