Journals
June 14, 2017
A blue leather bound journal
Full of pain and heartache,
Of suffering and hurt.
Tucked away in a dresser
Where no one would find it.
A green spiral Biology notebook
Full of diligent notes and annotations
Of mindlessly drawn hearts around
His name.
Tucked under her arm
As he walked her to class.
A yellow moleskin journal
Full of declarations of love for this boy
Full of hope for a happier future with him by her side.
Sitting open on her bed
As she dreamt of
What their future might hold.
She swears to herself 
To never go back 
To that old blue journal
Tucked away at the
Bottom of her dresser drawer.
She promises that with him
She can find happiness in her life
Where she once found 
Such pain and suffering.
But soon, 
The yellow journal
Collects dust on her desk.
She clutches her green Biology notebook
To her chest 
As she walks down the school halls
Alone.
The blue journal calls to her
From the bottom of the dresser drawer.
As a tear rolls down
Her cheek,
She picks up the
Old blue journal
And writes the words
"He's gone."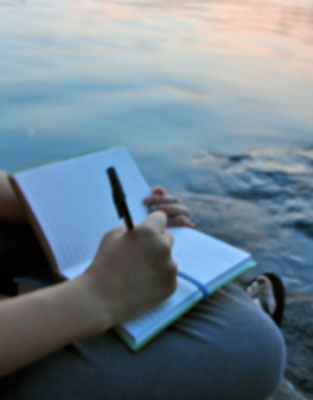 © Grace K., Port Washington, NY