I Was Whole.
June 13, 2017

It was the final straw.
The pain left from bruises on my body began to seep into my soul.
My heart was beating but I felt no life inside of me.
No beat, no rhythm, nothing.

I saw the ones I loved that day,
The day I realized I was hurting,
At the beach house i knew so fondly since my youth.
I thought about our times in the calming waters and how they felt like home to me.
The waves carried my aching, floating body as if I was a feather.
Again and again my body would rise and fall with the ripples and currents of the tides.
I was whole.

This visit, though,
To the beach that felt like home,
Even as I felt my head
Then my back
Then legs
Get swept up and gently placed back down,
It did not feel special.
There wasn't much to think about during the days following my trip
All I remembered was the ocean.
And how it used to make me feel
Free and
Alive.

I remembered smiling for a camera,
Sometime soon after the beach day.
I was in a group but I can't think of whom with.
I just smiled,
Convincing everyone I was okay,
And continued my day,
Hurting.

My days felt rehearsed
Like a conveyer belt;
Going through the same motions
Over and over.
I didn't even have to think about it.
When I did anything
All remained the same.
Fake.

You really got to me.
Crept into my soul and sucked out the life
Then left with a smile.
Just your words cut my heart like a knife and I
Felt dead.
I wanted to be alive again.

It was beautiful the day of my next beach trip.
The sun was out and the birds were singing.
I was anxious.
From where I was standing,
On the rail of the bridge,
I overlooked the ocean.
Its white caps that rippled with no pattern
Slowly and gently
Relaxed my restless heart.
I turned around.
The sun blinded me slightly and car after car flew by.
I faced the ocean once more, thinking solely about how deep the water must be this far off shore,
And how calm it must be;
Only the little wind rocking the water
Forward and backward.

I decided it was something I wanted to figure out.
To really see for myself
Just how far down the water went
From right where I was standing
To the bottom.
So I did.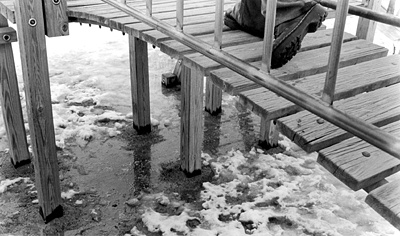 © Rebecca S., Marblehead, MA