Flower Petals
June 10, 2017
He loves me, he loves me not.
I sit tearing each petal one by one.
He loves me, he loves me not.
The day I met him I understood what a metaphor might feel like.
It hit like a truck—my heart dropped.
The day he smiled, ice seemed to replace the blood running in my veins.
Shivers raced down my spine, yet warmth filled me as a smile formed in reply.
He loves me, he loves me not.
I even remember the day he called me "his."
Pinching myself in self-doubt of the possibility.
In HIS eyes, I belonged to HIM.
Those beautiful eyes, I looked into them every time I had a chance.
Those beautiful eyes that reflected his inner beauty, opening a pathway to his uncensored thoughts.
Those eyes he used to stare deep into mine, losing his breath or smiling straight after.
The eyes that illuminated with fire whenever he became passionate, burning a flame within his heart as he ranted to me.
The eyes that soften when mine were flooded, and could whisper that it would be okay.
He loves me, he loves me not.
As time moved on, it seemed he did as well.
I denied all, crying and praying for the lie to be dissolved.
Until I came face-to-face with the one I trusted the most.
His words soothed me, easing a pain in my heart, telling me what I wanted to hear.
But looking into those once gorgeous eyes, the truth stung like poison.
His eyes spoke what his words wouldn't.
Flower petals piling around me continued to grow.
I knew the right answer, but my heart screamed no.
Tearing a garden apart for answers I wasn't going to find.
Just like those beautiful eyes tore up my once beautiful mind.

He loved me, he loves me not.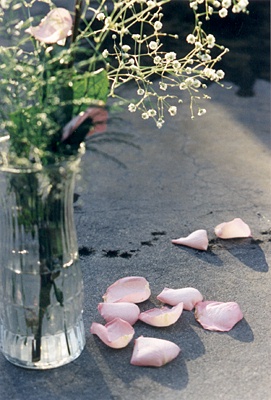 © Mary A., Fullerton, CA