A Dream of Mine
June 6, 2017
At first there is solely an ashy blue blur,
Then a landscape wiped across a car window,
the indistinct greys bleeding down,
like on the cheeks of a weeping widow.
All the while there's this breathless siren in my ear,
Grinding my brain against my skull,
While the narrow alleyway inches near,
And pulses inward, closer and closer,
Until there's barely space for him and I.
I should awaken soon,
Now, when his hands clasp around my gaping mouth,
But I enjoy the reverberation, or, rather, the tune,
Of my taciturn scream and inert flee.
I let the dream become a nightmare,
Where the world's a toy-top and my eyes are mint-candy swirls.
But I've seen him before, though I can't say where,
Or why I recognise a man with no face.
(When I raise my sheets
from off my legs
every bruise greets
the morning sun's rays.
I have not slept in days.
I never quite grasp his featureless name.
I dropped myself in that alleyway,
Like a key from a pocket or a bolt from a car,
And I return there, in despair,
Telling myself reality ought to be somewhere.)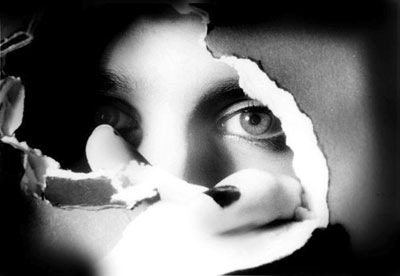 © Tabatha B., Peoria, IL