Because I Love You
June 5, 2017
"I love you,"
I hear mom whisper to Inca
as she shuts the door.
"Mom?Mommy?Mom?Mother?Mo--"
"Yes Inca?" Mom's voice sounds in the hall,
exasperation
and
exhaustion
dripping from her lips.
"Can you turn on my night light?"
"Of course, sweetie,
you were very brave today
with
Doctor Ned.
I'm proud of you."
I can hear Inca's smile
through the wooden walls.
"I was brave?"
"Yes sweetie,
so
so
brave."
"I don't like taking the meds," Inca whines,
and I can tell
she's sticking out her bottom lip
in that pout she does
when she gets sad.
"Me either Inca, but you have to."
"Why?"
"Because, sweetie."
"But why?"
"Goodnight, Inca."
"But Mommy, why?"
"I love you, Inca."

*****

Another day
in the hospital for Inca.
The doctor
prescribed
another
medication
to help with her
"mental retardation" her
"mental challenges" her
"problems"
but maybe
this medication will help
with her temper
and rage.

And if not
they'll just put her on the next one,
saying like they always do
"maybe this one
will help more,"
when we all know
she'll be on to the next
medication
in a few months.
*****

At school,
walking down the halls.

The walls
covered in art
from class
beautiful
colorful
lively
drawings
mine-- front and center--
of a bird
taking flight,
escaping,
the way art
helps me escape
from my
everyday
life.
But then, on the end, I see it--
A small square,
covered in
harsh,
ugly
globs
of color
like the person
dumped paint
on the paper
and
pushed
smeared
swirled
it around
and I laugh to myself
at the clear
lack of talent
the person has,
and go over
to check the name

Inca.
*****

I see her
Inca
walking with
an aid—
don'tmakeeyecontactdon'tmakeeyeconta--
"CAROLINA!" she shrieks
broadcasting it
on the AM Social Radio waves
we are all attuned to at school.

The beige walls
do nothing to help me blend in
as all eyes turn
united
to pry
stare
as I walk by

and pretend I didn't hear.

*****

"Hey Carolina,"
whispers Shelby
her voice
an undercurrent
to Mr. Michaels'
circling eddy.
"My house. After school?"

A nod and slight smile are all I can manage
before Mr. Michaels looks up
to realize

no one gives a s***
about his
stupid
lecture.

*****

I've always envied Shelby
with her
rich brown hair and
dusting of freckles and
deep blue eyes and
younger sister
who
is
normal.

*****

Laughing, sprawled on Shelby's couch
the only time
I ever feel
ordinary.

"What do you think
about Jonah Carson?"
Shelby calls from the floor
as she rolls over
onto her back
so she can look up at my face.

"I don't know..." I muse, but my brain
is doing backflips—
Jonah Carson, with his
floppy
dark hair, and
rich
brown eyes
and smile
with those
straight
white
teeth.
"I don't know..." I muse
as my heart rate
slowly speeds up,
no one could ever be as perfect as
Jonah
Carson.

"Ahhh, but you'll admit he's good looking,
eh?"
my small smile
and answering blush
are all she needs to confirm her suspicions
as her cackling fills the silence
like a dam breaking loose.
"I KNEW IT!!!!" Shelby guffaws,
rolling around on the carpet,
her body wracked with laughter,
gasping
and
heaving
as she tries to regain her bearings.

"Just because I think he's hot doesn't mean I
like him."

"No it doesn't…" Shelby's reformed
straight face
breaks into a grin again,
"But it's a damn sure good characteristic for a boyfriend to have."

"I can't argue with that." I answer,
as we both break
into bouts of laughter.

*****

Science is my favorite class
because
who doesn't want
to dissect animals?

But also
Jonah
sits behind me
and is absolutely
atrocious
at anything scientific,
and he always has to ask me for help--

"Psst Carolina," Jonah whispers
in the midst of a presentation
about the
cardiovascular system.
"Which one's the aorta?"

I snort in response,
thinking
he can't be serious—
how can you be halfway through the year
and still not know
what an aorta is?

"Carolina?"
Oh. My. Gosh.
He wasn't kidding.

"The big one in the middle, Jonah."
I respond.

"Aw, thanks Carolina, I owe you,"
he whispers
as he leans forward
across his desk,
until
his breath
tickles the back of my neck
and I
get
goosebumps.
"Can you come over today? After school?
I'm definitely gonna need some help
with this homework…"

"Of course!" I say,

anything to spend more time
with you
is what I want to say.

*****

"OH MY GOSH YOU WENT OVER TO
HIS HOUSE?!?!?!" Shelby shrieks over the phone,
"AND YOU DIDN'T CALL ME
IMMEDIATELY?!?!?! I need ALL
the juicy details pronto, por favor."

"Honestly, Shelby, I don't know why you're
freaking out so much. I practically
did his homework for him because
he is SO incompetent,"
I tell her,
but in reality
my heart is pounding,
a drummer
in fast-forward.
"And then we made nachos, and talked
about football. You know how he is
with sports, they're basically his
entire existence."

Shelby squeals down the line, her excitement practically
tangible,
"You guys were bonding!!!"

Over a plate of nachos?
Nacho average start to a relationship,

but I'll take it.

*****

Down the hallway, I can see
a commotion;
a congregation
of students, trying to avoid
something.

Jonah is walking with me,
so I'm okay with the hold up
until I see
what the hold up is.

Inca.

"S***," I whisper, as I push
through the crowd, towards her.

Her lunch is spread all over the hall,
containers
and
tupperware
strewn everywhere
like confetti
after everyone leaves the party.
And I can see
two of Jonah's best friends
snickering
as they walk away.

And everyone else just watches
Inca
as she sits in the middle of her destroyed
lunch,
dumped out by
those
two
b****rds.

"Oh, Inca," I exhale, as I kneel next to
her,
amidst the chaos and
prying eyes,
and begin to put the containers
back into
her
My Little Pony's lunch box.

"Carolina? They just— came over and took it— they took— they took it from me,"
her big blue eyes
bore into mine
tears,
welling like rain,
threaten to overwhelm.

"I couldn't stop them… everyone, everyone was la-laughing. They said I de-deserved it. D-d-do I Carolina? Do I deserve it?"

"No, of course not Inca. What would
you
have done to deserve this?"

*****

Quiet halls contrast
my rage
as I storm through them
no evidence left
of the
pre-lunch
Fiasco.

Jonah mysteriously
disappeared
after I helped Inca clean herself up

Maybe he got lost in the crowd?

*****

In science
the day after
the Famous Fiasco.

Jonah is surprisingly quiet,
choosing
to brood in silence
and
confusion
instead of asking me for help.

After class
Jonah stalks toward me
a sneer
plastered on his perfect face.
"Your sister
is The Retard?"

"yes…" I whisper back in a voice so small
even I struggle
to hear.

His answering snort
makes me want to hide
in my bed
under my covers
away from

judgemental
society.

*****

He's following me
Jonah
away from school
even though
I know
he lives
in the other direction.
So whyishewhyishewhyishehere?
whatishedoingwhatishedoingwhatishe--
"YOUR SISTER'S A RETARD!!" whoops
Jonah,
his two Cronies
snickering
at his jokes,
"RE-TARD RE-TARD RE-TARD!!"
Jonah hollers,
his voice getting
louder
LOUDER
as he gets
closer
closer
leaving the Cronies
behind
as he comes up behind me
and whispers in my ear,
"I bet you wish
she was never
born."

And I don't know what to do,
cause while the rest of my being says
NO YOU PILE OF VERMIN WHY WOULD YOU EVEN THINK FOR A MOMENT--
there's still a part of me
that says
yes.
Yes i do.
For all those family vacations we
couldn't go on
because of Inca.
And that time where she pulled my hair
so hard
i thought i might have
whiplash
and whenever we go to a restaraunt
she has to make
such
a HUGE
scene
like when she threw her plate
on the floor
because
she didn't like
the scallops
Mom ordered for her
and the sauce
SPLAT
on the carpet;
the nice,
clean,
pristine
carpet
and the waiter
just stood there
appalled
eyes as round
as the scallops
now covering the floor.

Tears come
i can't—can't, no—
i didn't just think that,
about Inca,
my own sister.
i love her
i love her
i love her
but do i really
if i could think all that?

*****

The front door clangs
against the screen door frame
a gaping hole through the screen,
Inca's fist
when we wouldn't let her outside,
because it was raining
and
we didn't want her to get dirty
I run
up the stairs
and
fling myself
onto the bed
to let
the trusty pillow
catch my free-falling tears
as I sob.

*****

Whywouldhewhywouldhehowcouldhe doeshehavenosoul????Whywouldhewhywouldhewhywouldhewhy--
"Why would he????"
The words bubble up,
surfacing like
boiling,
ugly,
festering,
puss-filled
welts,
burn wounds
cauterizing the air
with the memory of his words.

Father's loving arms
tuck me in tight
"He could be jealous... "

How could he
be jealous of me?

"...or maybe he wants
an excuse to talk to you?"
He already had one— science
and his stupid
inability
to learn.

"Or maybe…" he pauses, thinking,
"he's been raised, thinking that
different is always wrong,
when different
can be so much better than ordinary?"

*****

I sit
on my bed,
hugging my pillow
close to my chest
for comfort.

"Carolina?" whispers a soft voice at the
door,
Inca,
nudging the door open with her foot,
her hands hiding
behind her back.
"I have something for you!" she squeals,
excitement
overtaking her
calm features.

"LOOK!" she yells, as she
thrusts her hands
forward;
in them
the painting I saw
that day
in the hallway—
a small square
covered in
harsh,
ugly
globs
of color
like the person
dumped paint
on the paper
and
pushed
smeared
swirled
it around,

only now, I see
the care
and effort
she applied
to create this masterpiece.

The
harsh,
ugly
globs
of color
are now
soft
beautiful
dabs,
covering the paper in
green
and yellow
and blue
and just a smidgen
of purple.
A beautiful composition.

"It's for YOU!" Inca springs across the
room,
her bouncing spirit
filling the air
"Because I love you,
and you love me,
and I wouldn't want
any other sister.
Okay Carolina?"

And my heart wells in my throat,
tears purging my eyes, allowing me to see,
really see Inca
for the sweet,
thoughtful,
caring
person she is,
and I think, even with all her
quirks
and
temper tantrums,

Inca is pretty great too.

"I wouldn't want any other sister either, Inca."

*****

They don't understand
what it's like
for her.

The constant medications
and doctor's visits
and worry
worry
worry
for me,
my mother,
about her health
and the side effects,
and how strong
strong
strong
she is for pushing through.

How dare they laugh
when she is so much
stronger
than they'll ever be?

*****

It's been a week since
Jonah
followed me home
and I think
he thinks
I've forgiven him.
Oh no, buddy,
I haven't forgotten.
Or
forgiven.

*****

Pop quiz in science today
about
the different valves of the heart.
Jonah
is struggling, and he leans forward
in his seat
to whisper, "Carolina, what's the answer
to question 4?"

I shift my paper
so he can see my answers
over my shoulder.

I knew he was going to ask.

"Thanks Carolina, you're the greatest," he
says,
his chair
scraping on the floor
as he gets up to turn in his quiz with
my
borrowed answers.

I quietly erase all of my fake answers,
and rewrite the correct ones

as Jonah returns to his seat.

*****

We get our quizzes back,
a perfect 100
staring up at me,
but Jonah--
"How could I get a 53?"

I can feel his
angry eyes
fixated
on my back.

The bell rings, class ends,
and Jonah stomps after me
as I flee the classroom.

"Why did you lie to me?"
His hot breath
slithers
down my neck
as I turn around
to see him seething,
inches
from my face.

I look into that perfect face,
taking a chance to admire its beauty
before I
POW
smash my fist
into
his nose.

"That's for Inca." I say to his shocked face,
turning my back
to his stupefied expression.

Wow. Whoever said
violence is never the answer
clearly
never punched anyone.

*****

I'm smiling as Dad comes to pick me up.
Who knew
I could be so happy
after being
suspended
for two days?
I hop in the car,
and Dad's grinning too.
"Didya hit him hard? Break his nose?"

"I hope so," I smile back, "I did what you
always taught me—
imagine my fist will end up 5 meters behind their face."

"I'm proud of you. You stood up for your
sister; and that's what sisters are for, eh?"

A grin is my only response.

*****
I lie in the front yard,
grass poking into my back
as Inca runs
whooping
spinning around,
a smile pasted on her face,
as bright as the sun itself.
The people walking by
don't seem to understand that
I
don't
care
about their
judgemental stares
about their
disapproving thoughts.
I watch Inca
as she runs,
free
like the birds
chirping, taking flight from the trees;
Inca's overalls are a
whirlwind of blue,
and even the sound of cars
passing behind me
can't drown out those birds;
free,

like Inca.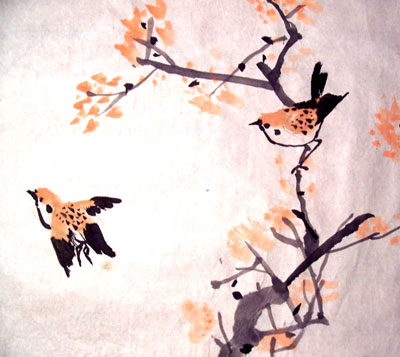 © Xiao H., Naperville, IL