I Am A Sister
June 5, 2017
I am a sister.
I was created the moment my mother said, "John, Else needs a friend."
I have been many people in many places.
I am Aceso, goddess of healing
I share my alter with Aphrodite and Athena.
I am Lady Liberty enlightening the world
sharing freedom and democracy for all.
I am Emily and Ann Bronte originally unfurling
my masterpieces under men's names eventually revealing my feminine wisdom.
The names of sisters who not bonded by blood but by shared experience
shine a light of those to follow…Isabel and Ruth; Sasha and Malia Obama; Else and Anna; Venus and Serena; Margo and Ann Frank.
I have run hand in hand across beaches to experience the excitement of the ocean,
celebrated marriages and wept with deaths, 
and felt the pain of my sister's broken arm.
Each and every day I take the form of a makeup artist, hairstylist, secret-keeper,
personal designer, lunch-maker, study buddy, money-lender, and dog walking companion.
I am a paradox. I deliver the kindest of truths trapped in the harshest of criticism. 
Not all sisters are friends, and friends are sometimes sisters. How fortunate
to be both friend and sister! As I navigate through life I take comfort in knowing I'm never alone and I have a seat next to me in the audience watching the family drama unfold.
I am the most fortunate of women.
A parent works hard to lead the family unit in a successful path.
I work hard to make sure my sister has a good role model to look up to.
A mason knows if his measurements are off, the home's foundation will be flawed.
A sister knows that if she doesn't provide support, her sister may deviate from the right path.
I am a pilot, navigating my passenger through daily negativity,
embarrassment, mistakes, and grief.
But I have great allies: Love, Laughter, Trust, Giggles, Inside Jokes, Strawberry Smoothies,
Snapchat, and Faith all surround me and create a shared history.
And who do I have to thank for giving me the opportunity to play this role,
my parents who by design, wanted to create another set of eyes and a shared heart for us to experience the wonders of this world.
And so I have a partner in crime, a past full of summer camps, Christmas mornings, road trips, and Easter egg hunts. I have a present full of homework commiserating, vacation celebrating, and I look forward with anticipation to a future full of adventures.
I am a sister, and I have been proud to be one for the past eleven years.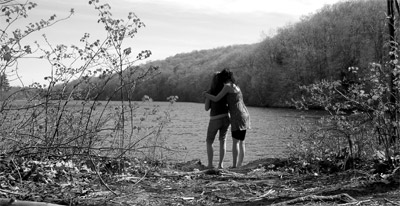 © Paige B., Woonsocket, RI