Somnambulance
June 4, 2017


The moonbeams melt against the window pain
While the stars scribble daggers in my heart,
An inkling spreading across the blank page
Of an ever-learning mind.

Thoughts bounce off the walls of
A headache house that holds them tight
In an attempt to keep them from colliding
With Depression's depression,

But if Serendipity had any clue
What she was doing with her life,
Then perhaps they wouldn't have to
Be so f***ing careful.

Thought has forgotten his bedtime
(Most definitely on purpose), because
Sleep is on vacation and can't remind him
To think straight—so he doesn't.

But the reign pounding down on headache house
Won't leave up for the trees to breathe,
Because King Cloud has had an awfully bad week
And wants the world to see his pane.

Unfortunately, all of this means
That Mind is in desperate need
Of a mental health physician,
Because if you don't mind, Mind does.

All the while, Night perches up above
His sword and shield at the ready,
Watching the weary world wonder
At his noble steed, Thunder.

The twins, Eye and Eye, decide
To stay open wide, in vein,
Blood-shot by Night's sun—
Who came earlier than they expected.

Body's bawdy remarks don't help a thing,
And Ear's doorbell continuously rings.
All of this racket because Sleep, on vacation,
Won't rest to claim me.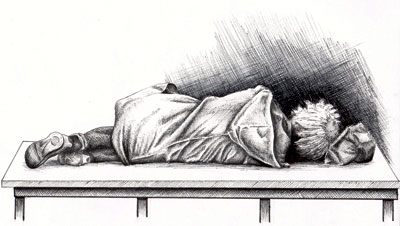 © Devin N., Sherrills Ford, NC