Her Power
May 29, 2017
"She's a beauty," he exclaims
  Slapping his buddy on the back, drinking a beer,
    Crushing the can on the pickup truck's bed.
"She's magnificent," he breathes
  Staring at the wonder before him, wearing a green he wears,
    A machine to win any war.
"She's the best," he gloats
  Sailing on the open sea, he sits in the captain's chair,
    In a boat that leaves all envious

She takes it
  He expects her to be perfect, to be nothing short of it.
    And when she's not? He kicks the tires,
    Launches his hands at the steering wheel,
    Screams at her to "work, god damn you."
She is taught to be at the mercy of a man.
  To start when he says to start and
  stop when he says to stop and
  let him dictate where she goes and
  why she goes and
  how she goes; to
  let a man control her every word and
  action and
  appearance and
  if he doesn't like the model he has?
    Get a new one,
    A better one.
The scratch on the side where it was
  his fault,
  his accident?        
Cover it up, paint over it. It will never happen again.
If he dinged the door after a drunken night?
  Get it fixed. He was just angry.

And the trucks and tanks and ships that they call "she" and
Expect to bow to their whim can crush a man,
  Can kill a man,
  Can bring nations to their knees and beg for mercy so
  If they think that there is no power in a woman then they
  Have not seen the creations of noise,
    of ruthlessness,
    of utter destruction that they have created in our image.
She is power and fear and can be used however she sees fit
For she and only she determines her use and her purpose.
The scratch on the side where it was his fault?
  She will never forget that.
  And he will rue the day he thought he could harm her.
If he dinged the door after a drunken night?
  She will make sure that he sees that mark as she takes
  his power away from him forever.
If a man can only look at her in wonder and awe and be so amazed that he can call her "she" and name her after history's most powerful women, then he has no right to treat her as anything less than what she is.
A she.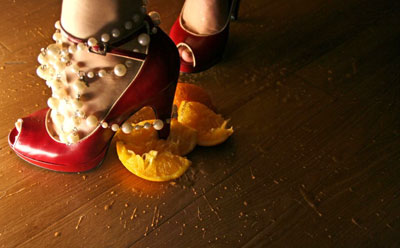 © Amber L., Carpinteria, CA