10 Ways of Looking At a Wishbone
May 29, 2017
I
In the dense forest
Along the path the children roam
Lies a large wishbone
That they enjoy to climb.

II
The bicycle tires overtop the rough surface
Spinning, spinning, spinning
Along the length of a wishbone.

III
The limbs on each and every sapien
That allows the being to stay put,
Go on an expedition,
Or hurt their worst adversary.
A human's
Natural wishbone.

IV
Up in the air
Soaring around amidst the clouds
Flies the feathery black wishbone.

V
A roman numeral
That comes before VI,
But after IV.
A wishbone
Without the stem.

VI
The glass which
A single mother drinks from.
She is slurping red wine
From the clear wishbone.

VII
The force that comes from a steel wishbone
That stops the boat from wandering
From it's dock.
That wishbone
Is what keeps this boat steady.

VIII
A promise between two friends
In which they interlock their smallest finger.
The famous pinky promise
Is a secret kept upon a wishbone.

IX
While sliding down the snowy slope
A pair of skis cross
In order to slow down the creature
Through the use of a wishbone.

X
A wishbone can be used to launch an object
Through a dense forest,
Or an expedition,
Or a snowy slope.
The object,
Whatever it may be,
Is led to the rest of it's life.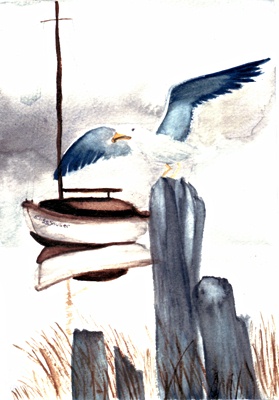 © Elise S., Milford, CT