Reach
May 27, 2017
An luminescent maiden,
reaches down from an ebony sky,
To caress the cheek,
Of an indigo gentleman.
They both reach to hold hands,
But are seldom united.
She shines down,
On a silver world,
She gives direction to those lost on their path.
She plucks us from the valleys of our sorrow.
She is so important,
Yet the only thing that matters,
Is the cobalt noble,
Who rules the beach.
He is the one,
That she cannot reach.
He looks up,
At her ivory face,
Framed by the empty void of space.
He helps us on travels,
Shapes the world itself.
He has covered a continent,
In an icy shelf.
Their stories of him,
People boast.
Yet she is the one,
He misses the most.
An onyx tear,
rolls down his murky cheek.
They are separate,
He cannot reach.
The two long to be together,
But are forever apart.
A raven patch,
On her ivory heart.
She is above,
He is too far below.
Each other's touch,
They will not know.
The atmosphere,
Their love can't breach,
And each other,
They cannot reach.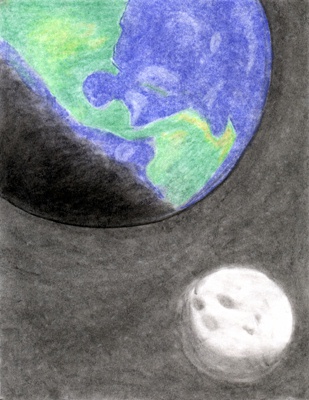 © Bianca C., Phoenix, AZ