I Am... a Softball Player
June 1, 2017
I am a softball player.
I was born the first time
a girl hit a home run.
I have been many people in may places.
I am Monica Abbott signing a million dollar contract with the National U.S.A team
and reflecting on what I have done to become this amazing player.
I am Kelly Barnhill with 167 strikeouts as a freshmen
and thinking if I should throw my amazing rise ball.
I am Jennie Finch pitching for the U.S.A National team
and calling out the plays so that everyone knows where to go with the ball.
The names of those that have practiced my profession ring like a hall of fame for humanity… Babe Ruth, Chryst Bustos, Michelle Smith, Dot Richardson, Lisa Fernandez, Cat Osterman, Stacy Nuveman.
I have wept for joy at our winning championship,
laughed at our coach's jokes,
and shook hands with our competitor after a close game.
Throughout the course of the day I have been called sister, daughter, friend, child, teammate, and student.
I am a paradox. I hit my hardest when I least try.
Home runs is not one of my goals, but I am a full-time base hitter
playing 'small ball' to advance the runner, getting my bunts down, and aiming   small to miss small.
I am the most fortunate for all who play.
A coach chooses who plays in the game, and who will get the opportunity to have the walk-off hit. A softball player chooses how the game is played, and what balls they will dive for.
A parent knows how nervous their kid feels before the game. A player knows why they are nervous about not knowing what to do in certain situations.
I am a leader, trying to push the team to do their best, and always staying positive even if we have errors.
But I have great allies: Thinkers, Reflectors, Risk-Takers, Communicators, Open Minded, and Caring.
And who do I have to thank for this amazing opportunity, but the coaches, and the parents. For you have given me confidence, and believed in me when I didn't even believe in myself.
And so I have a past of double-plays. I have a present of winning games with my best friends, and a future of endless fun and farmer tans.
I am a softball player… and I try my hardest everyday.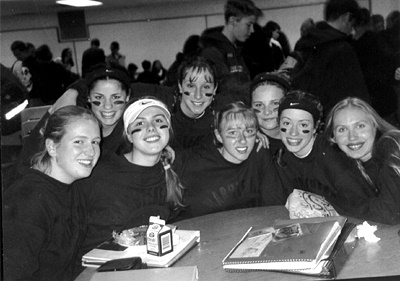 © Heather C., Marblehead, MA