"13 Ways of Looking at a Book"
May 31, 2017
13 Ways of Looking at a Book

I.   Sheets of printed paper
     Bound together
     Never to be opened.

II.  It's dark and
     I cannot see
     The lights are out.
     In my hands
     Is the story I cannot read.

III. Refuge and freedom
     Reality does not exist here.

IV. Somebody's thoughts
     And ideas.
     Their whole life
     Poured onto the pages
     Their mind is open
     And vulnerable
     To your eyes.

V. Hidden away
     Surrounded by others of its kind.
     Collecting dust.

VI. At its youngest
      It is but a piece of paper
      With words scrawled onto it.

VII. Has the potential to change
       And shape the world
       If it has the ability
       To make you think.

IX. Late at night
      Your eyes struggling to
      To register each and every word.
X. Numb to your surroundings with
     The pages turning at your fingertips.
     It smells of coffee
    And peace.

XI. History and forgotten legends
      Are hidden away
      Encased in the fragile binding
      And moldy pages.
     
XII. Finishing the story within
       And feeling a strange sense of loss.
       You want to delve once more
       Into the tale
       But you know you cannot.

XIII. At its newest
         Its spine cracks wonderfully
         Its pages smell of trees
         And the story inside
         Is waiting to be read.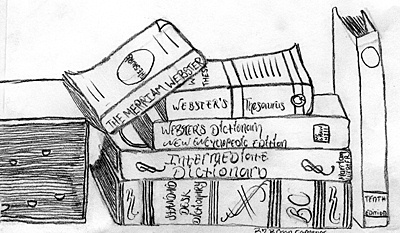 © Bryan C., Lovelock, NV