Letter to a friend of the past
May 18, 2017
My lips were dyed red by a sweet cherry popsicle
That froze my little sausage fingers
Chlorinated water dripped off strands of sun bleached hair
Onto my eyelashes where water still lingered
Your popsicle was purple and so was your tongue
You giggled as it stuck out at me
When we jumped back in the pool I watched your red ringlets
expand in what could have been the sea
When you're younger every moment seems to last forever.
I knocked on your door, then ran to my bike
You knew exactly what that meant
We'd meet at the corner then ride out to town
Our knees tucked and buckled and bent
I swear I can still feel the honey muggy wind
Surround me with a wet blanket hug
It's okay, you said as we licked up our ice cream
Then gave my curls a playful tug
The sweet treats would fill up our ten year old bellies
The bike home was always a plight
But we'd giggle and sway in a summer night dance
And by the time we reached home we felt light
When you're younger every moment seems to last forever.
And as we got older and boys became relevant
We'd sit in my bedroom and whisper
The words floated up and around our thin frames
We'd wish that things could just be simpler
But we still had each other to lean on and live on
And we knew all these things were okay
So I pulled out a lollipop from inside my pocket
And asked if you wanted to stay
When you're younger every moment seems to last forever.
The years kept on passing and now we're young women
Who exist in the same giant school
But there is no more swimming, or bike rides, or talks
The distance could almost be cruel
I still see your hair all the way across the hall
It burns like a flaring flame
A flame of past friendships and memories not lost
Though none of it can ever be the same
And right now I'm passing you, we walk different ways
And I look up just as you do too
Your brilliant brown irises browse over me
I know you see mine shining blue
But we don't say a thing, no smile, no nod
To relieve the tension of failure
The failure to hold on to something so precious
Taken by childish behavior
You let your eyes flicker away from my face
And my heart plays a sick game of Twister
I walk to my class and start to take notes,
Still mourning the loss of my soul-sister
I'm older now, but that moment seemed to last forever.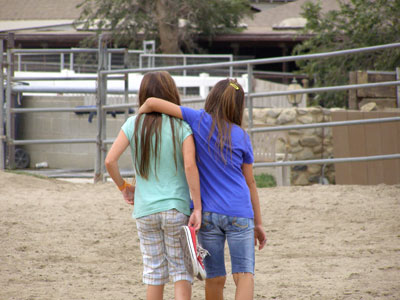 © Austin K., Studio City, CA