The Diner, Anyway
MAG
May 22, 2017
Six years old
Stumbling
Fumbling
Grumbling that this wasn't the Rainforest Café as I was promised
I wanted noisy animatronics in a laser-lit room
Another vibrant blue drink that made you grin
While wrecking your mom's car
But the scolding and screeching didn't matter
Because you were in your booster seat anyway.
Hoisting myself into the seat sticky with god-knows-what
Maybe grease – the smell of it
Has saturated into everything
Either way
It's late
Everyone is beginning to fade,
I'm not as old as I used to be.
They're talking
I should be listening but
I'm standing on my feet and tracing the panes of wavy glass
With a small finger
I may not have ripped the seat of the van
But my mother chides me
Anyway
The conversation turns to radio static
As I quickly try to change the channel
The plates are placed in front of us
Similar, very similar
To something mom would make
Not bad,
But not blue and sweet
And coming with a silly straw I would prize until I left it at Her place
Half asleep, I'm stumbling
Fumbling
A bumbling child with just enough energy to make it to the car
Which I would mark up with my crayons
Anyway.
Sixteen years old,
Smiling, beguiling,
Hoping they think I've got my s*** together
They smile back, he smiles back,
And my shoulders relax.
Can't stumble, can't fumble
A single word as I slide into the booth –
The very same booth –
Sticky with what is hopefully soda
The grease has found residence slicking back the hair of the patrons and in the food
They're starting to talk
But I can't keep track of the verse,
I'm not as young as I used to be.
They're chatting
I should be listening
But I am tracing the wavy panes of glass with my eyes
As the boy beside me places his hand on my thigh
The conversation is turning to static
And I wait for someone to change the channel
As they place plates of food in front of us
Not great.
Instead I crave
My cavity-inducing blue drink
Where I crunch the ice – or is that sugar? –between my teeth
Wag my tinted tongue at my sister and giggle as she swats me away
Instead I sip the tap water
And offer half baked smiles
Half asleep,
It's eleven at night,
And the diner hasn't closed yet
The fluorescents glowing
Green, red, white
In through my window
Fading, fading,
To a fuzzy static I cannot decipher.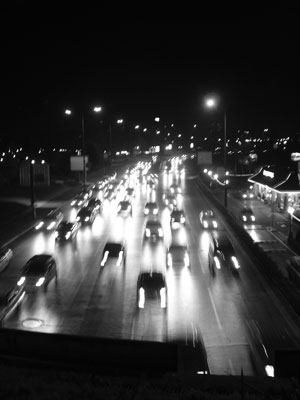 © Marietta S., Pleven, Bulgaria