Y O U
May 21, 2017
You try to silence a sea of voices
You strip away identity upon identity just so you can see your closed-minded vision of perfection and ideal picture of beauty
But does perfection even exist?
How could you possibly limit and define beauty?
You, you are clawing away at the kindness in my heart and replacing it with cold black tar
Your words, they hurt, they dig daggers into my heart.
As I read your hateful words, the back of my throat tightens, I swallow, and then a few tears tear down my face from my eye to my cheek
The sound of your voice fills my body with disgust, shame and anger
And the sticks and the stones that sometimes, we ourselves wield with our evil hands, do break bones
And the bombs…
And the bombs that we build
they burn you to the ground leaving rubble and destruction behind
and the ones that aren't left cold, still and helpless in your tornado of ruins
Are left without a place to call home
How many circles, going around and around and around will you let them walk in?
Walking with no direction
before you open your said to be "welcoming" arms saying…
want them to be safe from the storm that took place
The storm stole people that they once knew and loved
safe from your street that we filled with our poisonous breath.
You fill the air with an endlessly large cloud of toxins, sickening young innocent lungs
Even as they try to play they can't get away from cloud of darkness they see looming above them
and after it's too late to look down
they are on the ground
after tripping over garbage that you left behind.
You, you try to put a bandaid on my heart… but really my throbbing heart just needs you
Needs you to listen
To let young innocent optimists minds into your soul and to see the world through the eyes of the lost, tortured and forgotten
Do you even see me?
Do I even deserve to be seen?
Because I, am just one pair of feet, marching down the street, and I'm not a regular
I walk past countless pieces of trash yet I don't pick them up,
past the homeless man I'm too scared to help
past the ignorant man that's telling a brown girl "I don't want you here" but I don't confront him because who knows what's in his back pocket
I've always been told to not live my life in fear.
But maybe, that fear, drives people, to RESIST the cruelty and injustice that fills your mind and soul.
Maybe we should be scared.
After all I can't escape you, you're everywhere, you're all I have
I want to heal you
I want to explore your skin with my soft, cold hands before we both get so badly burned I don't even have the strength explore your cities and streets
but by then they too will be lost, tortured and forgotten
I want to challenge your stubbornness and scream so loud you can't ignore my voice amongst that sea of voices
I want to leave you with scars on your body and words in your mind that you just can't forget no matter how hard you try.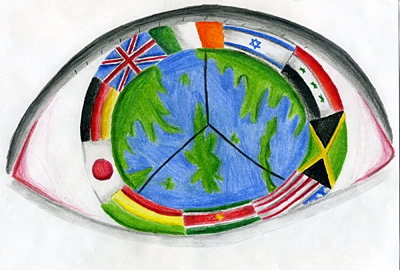 © Kelly L., Brooklyn , NY