The Art of Makeup
April 29, 2017
Strokes of color across a pale canvas;
Art, a painting, a method of expression,
pigments, glitters, brushes, powders—
endless supplies.
It's fun, they say,
express yourself, they say,
the hues, the textures, the "perfection,"
creativity, artistry, craftmanship,
let it enhance your looks and confidence.
It's all so fun at first—
endless possibilities,
until when you take it off, you think
"it isn't me,"
questions, questions,
do I love myself for me or am I just striving impossibly for perfection?
Rainbows of vibrant color, deep mauves, pale nudes,
it entices you with promises,
fulfillment, desirability, confidence—
beauty.
You keep applying, applying,
a "full beat," a mask, a cake,
it pulls you into a deep abyss that can never be crawled out of,
of constant application and questioning,
so you just keep coating,
strokes of color across a pale canvas.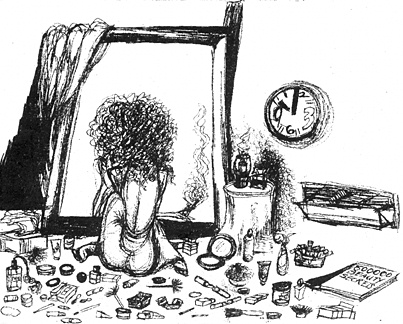 © Asha M., Philadelphia, PA