With My Pride
May 2, 2017
I remember sitting at the lunch table
across the girl of my dreams.
You had oversized glasses
and a brown skirt
that dropped below the knee.
You knew my name,
You knew my problem's name.
Days pass and you grew quiet.
Your beautiful smiles, 
your goofy laugh,
all but just a memory.
You've changed.
You gravitated towards my enemy's door
and opened it.
You were with them now.
They were my problem,
the bleeding sensation
that seeps from my head;
the word they used 
to exile me from love.
I was alone.
There was a day
where that sensation
has gone away.
The pain I feel now
is more unbearable
than my ribs getting bruised.
The pain I felt 
is when i looked in your eyes
and cried
only for you to look the other way.
They said
If I wanted to love like a man,
then I will be treated like a man.
Those are the words that echoed,
even when I stand on this bridge.
I know you won't care,
but remember me,
not as the prey they fed on,
or as the word they chanted,
but as the girl who loved you.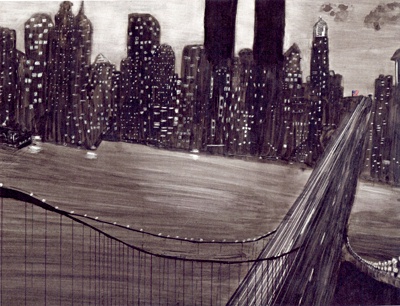 © Breanna Lea B., Richmond, VA