How to Pull Off a Harmless Senior Prank
April 18, 2017
Materials:
1 heap of seniors all on the same page (junior participation is optional, but makes for a better prank)
1 slice of knowledge where your bus stop is
A few cups of the motivation to wake up a little earlier
21 school busses
1 parent willing to drop you off at school
A sliver of humor to see school get delayed or cancelled
Procedure:
1. First, make sure your heap of seniors are all on the same page.
2. Start planning at least a week before intended date of use.
3. Then, any day before, have everyone get a ride to school from parent's, friend, etc and take their bus home (make sure it's on different days to prevent over flowing busses.)
4. After that, obtain the slice of knowledge as to where to show up the morning of the prank.
5. On the morning of, make sure to get out the cups of motivation and the sliver of humor.
6. Proceed to have everyone show up at their bus stop.
7. Due to bus companies only accounting for students that don't drive (aka most freshman and some sophomores), there's little chance the busses will be able to handle everyone.
8. Because of the fact schools must provide transportation to everyone, school will certainly get cancelled as the busses must pick up everyone, and they have middle school routes to get to directly following.
9. Sit back and enjoy your few hours or even day off, depending on the level of participation
10. Thank the ones that got on the busses and took one for the team at school.
11. Repeat recipe as needed so everyone gets in on the fun.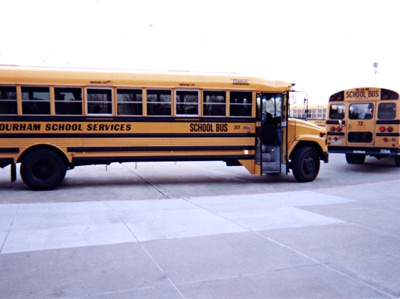 © Blake B., Highland Village, TX