Man's Best Friend
April 18, 2017
Ring Ring Ring
The alarm's singing lifts my eyelids open—a new day for an adventure.
I jump out of my blissful bed, anticipating the fun day ahead.
I turn on the lights with a push of a button and tug open the curtains concealing the dark room.
The room transforms from a nocturnal night, to a spring day with birds singing gently.
A whispering wind comes through the window like a creature tiptoeing its way through the house.
I see your body quietly shiver when the wind disrupts your warm bundling sleep.
I quick grab your santa slippers and lay them at the edge of the bed, laying them perfectly.
I have memorized where your feet land everyday once you leave your bed.
I excitedly wag my tail like a kindergartner waiting for recess—but nothing happens.
I leap up on the bed and give your tired face a weak lick. Your eyes open but you see nothing.
Your body shakes as you scream from the pictures mingling in your mind.
"Don't die on me, Billy. You're going to make it. Stay with me!"
I calmly lick your hand and stay by your side until the pictures stop spinning.
Your firm hand tensely grabs my coat, but relieves itself after you feel my warmth.
You sit up and slide your feet in the slippers and give me a pat on the head.
I'm happy to see you're ready for the day.
You may have lost your sight, but you will never lose me.
I am man's best friend.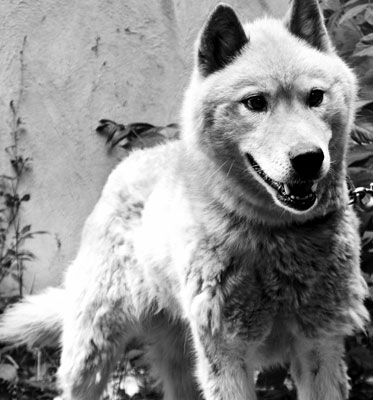 © Mike A., Newark, DE