How to Fail a Math Test with Confidence
April 18, 2017
Ingredients:
Math Binder
Computer
A pencil
A multitude of Confidence
A bin of pillows
A comfy place to lay (typically a bed or couch)
Directions:
Get into your comfy place to lay.
Set up your pillows so that they are just right (As if you were about to go to sleep).
Get your pencil and math binder. Open your binder to the section that you will be tested on.
Open your computer to find a page where you can look at review answers. (For maximum failure don't even open the review page). Do this for about 5 mins.
Open up a new tab with something more interesting (I would suggest ESPN). Spend all studying time browsing the web for fun stuff or until midnight.
Once it hits midnight take a look at math review for another 5 mins.
Finally tell yourself that math is easy and that you are going to do well.
Sleep
When it comes to test time walk into class with confidence (Pro Tip: When they ask you to find "x", circle it and just say "here it is"), and walk out with even more confidence knowing you accomplished the goal you set out for… Failure.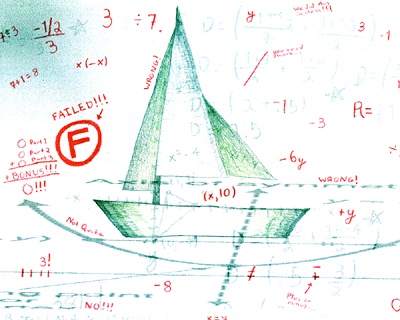 © Steven R., Binghamton, NY