Story Shoes
April 7, 2017
Our shoes, tied and tethered, trek together with our feet. Always available and always willing to be stepped on, our shoes are our simple slaves cobbled and created to be chosen by the consumer.
Bill's shoes are grey and muddied at the sole. The laces are torn, pre tied, and were once white. Guacamole green paint sits, splattered, on the right and chili settles, smothered, on the left.
Kevin's shoes are sleek. Leather laces, an ink-black base, and shoe shine fill the small hole in his wallet. They match his mat-black Massimo Dutti marvelously.
Carol's shoes are white like a snow-blanketed hillside. Carol's shoes show no wear, no tear, and no color. Carol's shoes are an unwritten book—a story yet to be told.
And my shoes…my shoes show the bleach from a cloudless sky mixed with colors of clay. Once the blackest blue, my shoes are now grey and lifeless, torn and tattered, bleeding orange with iron. My shoes are mine; have been for some time.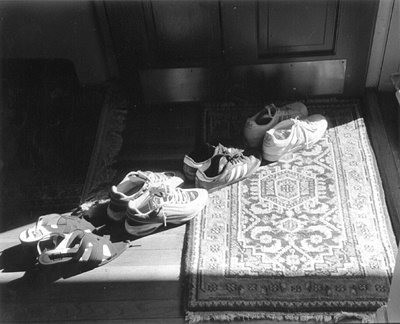 © Caite P., Marblehead, MA