The Happy Place
April 7, 2017

Sometimes I wonder.
What it would be like,
To actually go anywhere I wanted?
To escape from my struggles,
My problems,
My reality.
I think we all have a place we like to go in our mind,
A safe place,
Where no one can reach us.
A place only known by us,
And only for us,
A place where we're meant to be happy,
Where we're all meant to be calm.
I looked over to my left,
At the far end of the beach,
I see two parents playing with their toddler.
I faintly heard them,
The shrieks of happiness from the small child,
Along with the visible smiles and laughs,
Coming from the parents.
I was happy looking at them.
Ahead of me was the crystal clear turquoise water,
Lapping at the sand endlessly.
I focused on the sounds of the waves,
The crashing sound they made,
And the nature that was all around me.
I was calm.
The sun's rays shone down on me
I absorbed them,
The heat,
Feeling warm.
Hoping to get a deep, dark tan like I always do.
I was happy.
Under me was the sand,
White and soft.
Hot,
But not too hot.
The smooth bed of rock I was laying on,
Made me feel comfortable, welcome,
Like home.
I was calm.
I looked up at the baby blue sky,
Open forever.
Not a cloud in sight,
It was inviting,
As if urging me to take flight,
To bask in what in all it had to give
Taking it all in I was happy.
The places I could be,
Yet I still chose this one,
The same memory I always remember,
Playing over and over in my head,
When I'm sad,
When I'm angry,
Looking for a place to escape to
Why?
To be happy, and to be calm.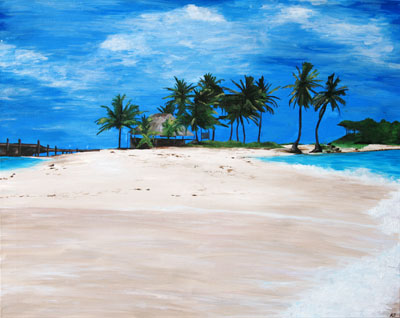 © Karen S., Norwalk, CT