REVOLUTION Y
April 10, 2017
Relieving the longing
for the expanse opposite
this kind of Purgatory
does not come as easily
as tearing yourself apart.
Evenings smogged and vapid
nights pass by in rapid
succession has forfeit
while the life it supported
has thwarted the meaning of
"Is it all worth it?"
Vexation is the only answer
to this fixation of depression
therefore the Curser is he
who must be faulted
for breakdowns and
their precursors.
Origins in this aversion
to that which ails
yields nothing but fine mist
found mistakenly in terrors
that bump in the night.
Lurid has lost to the Lewd
horrid has a hip-hop attitude
vanguard to forefront
a bar-driven rattling shrewd.
Urine and vinegar home-grown
sterilized and shelved for act of
misunderstanding, mislabeling
for the poor unfortunate
to care enough
where the garden is.
Tantrums knocked something loose;
the boy is aware of his being
and under streetlight tears,
a crippled bike comforts
the boy-reconsidering his own
misunderstandings.
Identified in it's ignorance,
the too-late thinker
comes to create these
new negotiables
to which his life
trimmed why he lived.
Obvious it is to him
that he has only made
a nip in the tucked-away
corpse that lies beyond
this hip-hop facade
but this is new
to his old soul
and he knows
a cup completely full
is a frustrating tedium
to fill up once more.
Nobody and not a person
in his relurid'd mind
knows this better than he does now.
Yet he still has so long to go,
and knowingly, he walks on.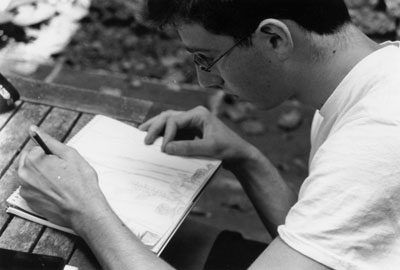 © Kira L., Bethesda, MD