Mask!
April 5, 2017
His mask is his drug
Matthieu Ricard they call him
Seemely social, Facebook's friend
Always your little cheerleader
Through rock and mud
He stands there
Your teddy bear, and your breath
Behind bars, the curtain closes
The player has now left the stage
Props and costumes all away
Take off the mask, the ball is over
Moonlight, black heart
Street fighter,  Lupe Fiasco
Life is a game, so he gambles
Corner cry, no direction
Days end, stage two
Mask in hand, ACTION!
Movie plays yet another scene
Happy, not a sight of worry
He leaps around joyful
Tadpole is in water
Not a care, worries behind
Crickets, grasshoppers, cold wind
Once again, props and mask away
Pops one, then another
And yet some more
Momma's vanished, Poppa's vanished
Brother in striped orange
Abandoned home, famine
Scissors, mask, POOF!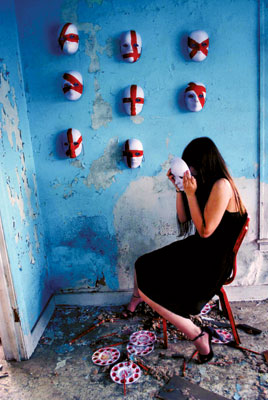 © Narongsukchai T., Sachse, TX