Our Midnight Story
April 5, 2017
The sun dies down drifting into a subtle slumber
Moonlight peeks through the vast sky yet somber
Atmospheres that hide all of the pitiful rage
The universe no other than our true love's stage.
A kiss sparks the blue aura of midnight luster
Our souls lost in the tangle of a star cluster.
A pair of desperate star crossed lovers swarm the sky,
Throughout the galaxies our hearts pursue to try,
Emotions pouring along with the stardust flood 
A love as sour and deep as the bondage of blood.
Protecting us from the danger of a morbid black hole
For you the entire solar system I would easily have stole
Floating through outer space with the thrill of zero gravity
Our hands reach for the stars as we escape from our reality
Solstices align the planets in a simple direction
Earth's orbits feeding from our utter bundles of affection.
In the everlasting sea of darkness we discover world treasures
None comparing to our love and its own chilling pleasures
A beautifully painted starry night and strokes of sheer perfection
Microscopes can see our love, under precise inspection.
Comets dance around about the suffocating air
Fighting for a single breath, as our forever I prepare.
Now we drift away entangled in the nature of our being
Without you by my side, an angered twilight I am seeing.
Separated through space and time, bound to meet again
You and I, star crossed lovers, until the very end.
Written in the tiny stars, our destined history never dies
The midnight story of me and my lover, where our mystery enlies.
A combination of all the stars, planets, and galaxies too
It still cannot triumph us, me and you.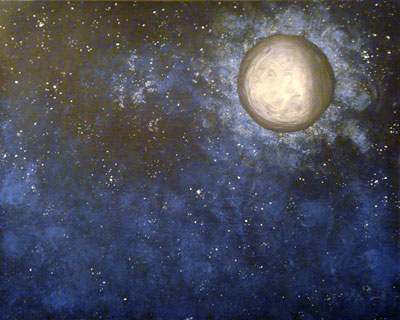 © Allison H., Vancouver, WA