"Mend"
April 4, 2017
She tried so hard to be a friend.
She worked everyday to serve and mend.
And at last, through all the drama she had endured,
She finally found the right cure.
Up until 3rd grade, it was all fun and games.
She would joke and sing with no fear of shame.
She had two best friends, but they were never together.
She just always thought that that would be better.
But then there was that dreadful day.
On top of the hill, her friend had to say, 
She didn't want her to have two best friends anymore.
It was only her that was to be adored.
She looked at her friend with utter confusion.
Was this friendship all just an illusion?
She refused to accept her outrageous claim.
And thus was the beginning of her spiraling game.
She saw that girl again the next day.
When she once again had something to say.
"Do you want to be friends again?" the girl asked.
She nodded.
"Well it's not happening!" And that was the end of that.
Unfortunately this game continued into 4th grade.
Where her new friend group had been officially made.
There were 5 girls, including her.
She prayed these friendships would never deter.
But little did she know this would be the beginning of the end, 
In her next step to this ever-changing attempt to mend
What friendships she thought she deserved.
When it was all really just a big blur.
At first it started out okay.
They would laugh, they would sing, they would play all day.
She felt included in the group, there was no mystery.
Of course that didn't last long, she was to be repeating history.
This time it was 4 against 1, she had no chance
In attempting to make amends instead of stopping to say "I can't."
They started leaving her out of everything they did.
She would be forced to listen to their stories, knowing nothing of what they said.
What was even worse was that they made no mistake,
In making sure she knew she was out of the group, that she was a complete waste.
But what did she do? She could not see
That it was all just out of jealousy.
And yet she kept going, she kept hanging with them,
Knowing that she was being condemned
To always being the outsider, to failing to make
A friendship that was anything but fake.

3 years this went on, having done nothing at all.
It was to be her ultimate downfall.
And then there was middle school, where she had no doubt,
That social media would make her feel even more left out.  
They started posting pictures of themselves together
Fully aware that these would upset her.
At first she tried to join in, she wanted to see,
But she was immediately kicked out, it was never to be.
Then there was the day when she finally fell apart,
Crying to her mom about her broken heart.
Why had she put herself through so much pain?
And the worse part about this was she felt she was to blame.
So when the final week of school came around, 
She decided it was time to walk past their table with no sound.
Instead she sat with her other friends,
Where she no longer had to pretend.
Now she's in high school, starting over again,
Never having to feel the need to mend
What friendships she has, because they are healthy.
No exclusion, no crying, no jealousy.
Every once in awhile, she looks back at those times,
When she thought speaking up for herself was the ultimate crime.
She regrets not having fought for herself, having made a mark,
Instead of condemning herself to the dark.

But she knows her struggle paved the way,
For her to finally realize she had something to say.
You have to speak up for yourself, to stop trying to mend,
For it is never, ever too late to start again.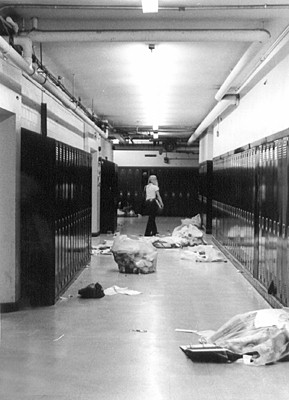 © Halsey S., Marblehead, MA