Summer Days
March 16, 2017
Open your eyes slowly
a dim light seeping in through the shades
you lift yourself up, and give a little grin.
No responsibility, nothing but time.
Finally you have nowhere to be, nowhere to go.
Today is yours.
Walk outside and get rushed with
birds singing their own songs
the wind blowing in no particular scramble
and the summer sun surrounds you with warmth.
This feeling is different, it's not what you're used to
there's no panic to race,sit, and listen,race,sit, and listen.
Hop in the car with a feeling of freedom.
Breaking away from the normal routine.
Windows down, radio up, Raybans on
you're off, driving through rows of shady oaks
down sunkissed roads, passing an abandoned framework halfway complete
That will just have to wait another year.
Sit in the grass as the sun starts to set
thinking back on the day but focused on tomorrow
you lie back and gaze at the sky, millions of stars
taking over the job the sun started
as the day winds down to an end, there's one thought in your mind:
just like today, tomorrow is yours.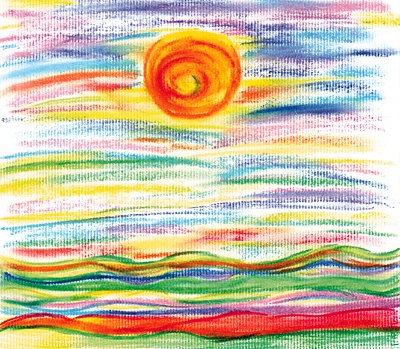 © Jennifer W., Saint Albans, WV