Thinking Coffee
March 27, 2017
Hot, black coffee rests on the table.
I sip and say no words, staring at the soft, pink sunrise.
You take my hand and sit next to me,
stirring sugar into your mug.
The first few words spill: simple, sincere, and intimate.
Thoughts begin our day, pouring out of our mouths
like coffee out of the pot.
We don't talk about work, or kids, or family.
We talk about life, and death, and love— 
important things, that make me wonder.
You keep hoping I'd become less bitter, just like my coffee,
but every morning, it's the same.
You take sugar in your coffee because
you still see the good in every morning,
like I wish I would.
I hate mornings. You say they're beautiful.
You say they're inspiring. You say they're your favorite.
I'll take more coffee and
a kiss on the top of my head.
You set your mug next to the sink and go off to work.
My empty coffee cup rests on the table.
I search and say no words, watching how beautifully the soft pink sunrise
swirls into the pale morning sky.
Sometimes I think you'd like a frappuccino girl because
you never expected I'd be this bitter.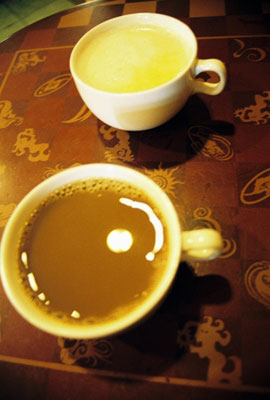 © Jaci S., Duluth, GA