As Fish
March 27, 2017
In the sea-salt spray of the open ocean,
dolphins play in the up/down motion.
Free, as fish.
Storm clouds brew, beyond the waves above.
Safe beneath them, no worry thereof.
Carefree, as fish.
Sudden, cuts through water,
rope, reeled and tugged, pulls tauter.
Frightened, as prey.
Fish corral, scrunch up tight,
not all will live through the night.
Tired, as prey.
Friends! Panic! Swim! Flee the catch!
Hauled aboard, hope goes out, like a wet match.
Helpless, as product.
Slapped on ice, sliced, and shipped abroad.
Taken out, then evenly thawed.
Breathless, as product.
Seasoned well, with lavender, lemon and lime,
put on grill, 500° for a time.
Tasty, as dinner.
Cut and sliced, bickered over,
pieces on ground, fed to Rover.
Digested, as dinner.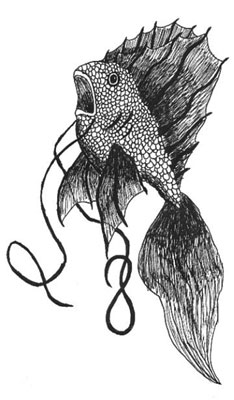 © Josh D., Mesa, AZ