Gathering in the Kitchen
March 24, 2017
Walking up the stairs: sounds, smells, souls.
Garlic fills the air, as the aroma consumes her.
Plates clank, milk spills, silverware crashes.
Chaos: the family entwines in the kitchen.
Children run, as Mother controls the show.
Patiently waiting, children's stomachs grumble, wanting to eat.
The calm: meal prepared, the family sits.
They praise the Lord for food, family and fortune.
Hands folded, heads bowed, the family waits.
Empty seat: table cloth, plate, utensils...no one sits to use it.
Somberly the family eats, joyful conversation masking the pain in their hearts.
Table set, table full, yet the table is empty.
Clean up: the irritating, the unwanted, the end.
The empty chair, no longer there.
Back down the stairs she goes, alone, yet not alone…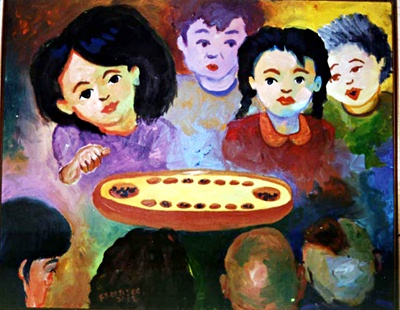 © Fransisca A., Surabaya, Indonesia